Welcome to the DogShowApp
Android Phone App for Dog Show handlers. Download the free Android phone app and set up your own personalized dog show schedule. Have estimated ring times, judge names, ring numbers, and entry numbers at your fingertips.
Features
Set up your own personal schedule for each show
Your individual schedule shows estimated times for each breed you choose
Breed counts, judges, and ring numbers listed in your schedule
How It Works: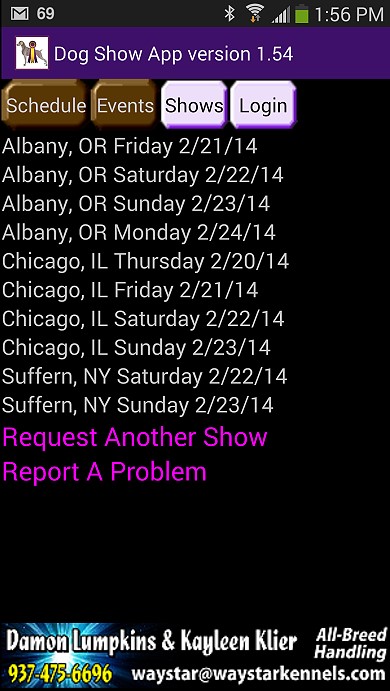 Choose your show/date from the list of upcoming shows.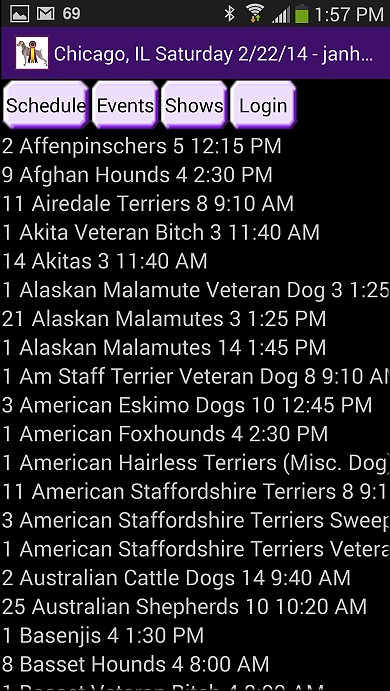 A list of breed events will show up. Scroll through the list of breed events and click on each one you wish to add to your schedule.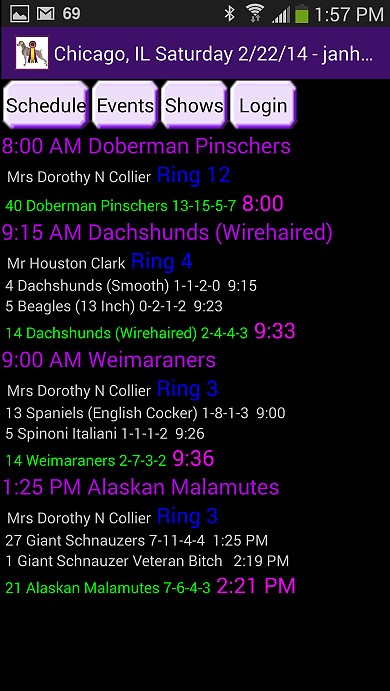 Click on "Schedule" and view your personalized show schedule, with approximate times, ring number, judge, and number of entries.
Your schedule also lists the breeds ahead of you in that ring along with their numbers, so you can plan ahead. Personal ring times are estimated at 2 minutes per dog. Times are approximate, but they will work as a guide to plan your day and be aware of conflicts.
To remove a breed from your schedule, just click on that breed in your schedule list.
FREE!
Become a beta tester of the new DogShowApp
For a limited time, DogShowApp will be available FREE to a number of dog show handlers and enthusiasts. Contact janhare@bright.net for more information.
The app is available for ANDROID PHONES. If you have an Iphone or Windows phone, or wish to access it via your home computer or tablet, you can log in to the new WEB APP (see link at the top of the page).
Request a Show
Eventually we will have all AKC shows listed, but for the testing period we will be just loading the shows that our testers are attending. Please fill out the form below to request specific shows that you plan on attending and would like to use the app.
REQUEST A SHOW
Forgot your user name???
Request to have your user name sent to you by clicking HERE. While we are in the testing phase, all responses are handled personally, so please allow a day or so for a response.
Advertise on the DogShowApp
Advertise on the DogShowApp - free for a limited time. Your banner ad can appear on the front "shows" screen on a rotating basis. Click here for more details.
LIKE US ON FACEBOOK and stay updated as we roll out new features and products!